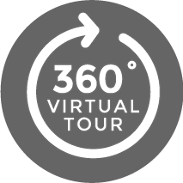 The Azrieli Architecture and Town Planning Library is Israel's leading library for architecture, industrial design, landscape architecture, and urban planning and design, and the largest and oldest such library in the country. It could be described as Israel's national library for architecture.
The origins of the library lie in the establishment of the Technion's Faculty of Architecture in 1924. Until 1985, the library operated out of the Technion's historical building in Haifa's Hadar neighborhood. Today, the library is situated on the Technion campus, on the 2nd floor of the Amado Building. It is open on Sunday through Thursday, from 08:00–20:00, and during the summer months, from 08:00–15:00.
The reading rooms contain about 120 seats for individual and group work, and are equipped with 14 computers, two scanners, two light tables, two printers, and one photocopier, all of which can be used by the visiting public.
The library's collection includes approximately 40,000 books and 125 journals covering the diverse fields taught in the faculty, electronic books and journals, as well as special historical collections on architecture and town planning:
International journals published in various languages ​​from the 1880s to the late 1970s.
Hebrew periodicals from the 1920s onwards, including copies of rare periodicals, many of whom are kept exclusively in the Faculty's library.
The library primarily serves faculty members and students. In addition, the library is used by other members of the Technion community, guests from other universities and colleges, alumni, architects, and many other readers interested in architectural matters.
Student services at the library include:
Borrowing and returning books
Reference services
Granting online access to items on the bibliographies in course syllabi through Moodle
Group and individual trainings that cover proper use of databases and scientific journals
Individual instruction for students on the use of bibliographic tools
Interlibrary loans
Services for faculty members include:
Teaching support: acquisition of relevant books and journals for courses taught at the faculty
Preparation of bibliographic items for courses, and scanning of various materials
Creating trainings catered to specific course subjects
Supporting research needs: acquisition of books, journals, and databases for research purposes, consultation regarding the publication of books and articles, and creating citation reports for scholars for purposes of professional advancement
Interlibrary loans
The library may be contacted in the following ways:
By phone: 04-8294010
Primary email address: arclib@technion.ac.il
Viky Davydov, Head Librarian: viky@technion.ac.il
Olga Sadovay-Panfil, Informationist: olga@technion.ac.il
Lena Avrahami, Informationist: elanet@technion.ac.il
Limor Zadok-Koren, Informationist: limor.zad@technion.ac.il
For more information and to search the library's databases, please refer to the library's website.